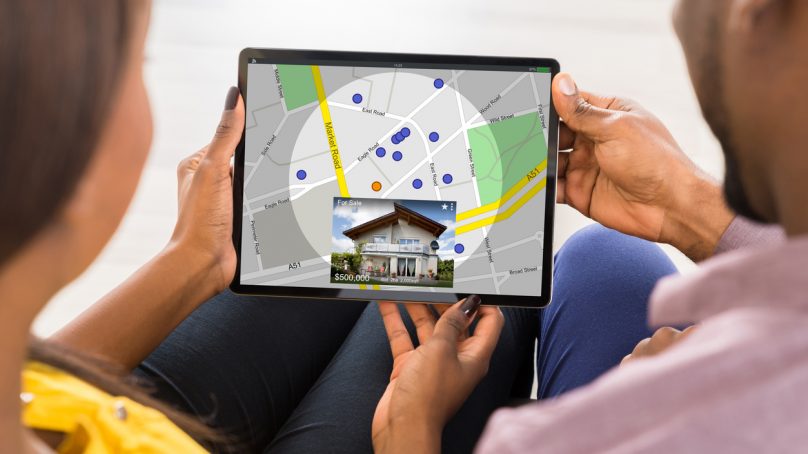 In the real estate industry, we used to see much more definitive home buying and selling seasons with larger differences between the hottest selling season in the summer and the cooldown period in the fall. A decrease in these differences is partially attributable to the rise of virtual real estate, which offers homebuyers more options for completing research on their own time and in the comfort of their own home, potentially even from across the country.
Virtual real estate practices have been steadily growing throughout the years as other aspects of our lives and buying habits have increasingly moved online, offering buyers more resources to buy year-round and from out of town. The quality of online listings and options for virtual touring has become more important as homebuyers have shifted to doing their initial research online, which has slowly but surely started to chip away at the difference in selling seasons as homebuying information has become more widely accessible.
However, virtual real estate has skyrocketed this year to cope with the pandemic while buyer demand remains unusually high even as we get into the cooler months. According to Realtor.com, this is the first time in history that homes sold more quickly in October than September and buyers continue to pay summer prices for homes into the fall. Much of this continuing demand is probably attributable to the homebuying backup from shutdowns due to COVID-19 earlier in the year.
As people spend more time at home, there is added weight and urgency to homebuying decisions. Remote working and home office spaces (as well as just having enough overall space) have also become an important consideration, as many families juggle working from home while having kids who are potentially learning from home. It's essential during this time that buyers are able to still have authentic experiences that are as close to in-person meetings, touring, and buying as possible, with their personal challenges and needs being addressed.
Many real estate buying and selling practices have become more virtual during the pandemic in order to meet buyer demand while also promoting social distancing practices. Here are some of the changes that have made the largest impact on the real estate industry, many of which are likely to continue even after the pandemic ends as buyers get used to their convenience and enjoy having multiple options to make the home buying experience more customizable.
Online Marketing is Essential
A move to more online buying methods has meant it's more important than ever to market listings properly through online channels — including well-photographed up-to-date website listings with ample information and specs, social media promotion, and online content that directs traffic back to listings.
Photos for online listings need to be high-quality and taken from multiple different angles to give buyers a sense of what being in the home is really like since buyers are less likely to tour as many homes early in the buying process as they might have before the pandemic. This is one of the challenges of for-sale-by-owner (FSBO) homes since real estate agents have more resources and experience for obtaining high-quality marketing materials and better access to online homebuyers.
Social media platforms are also being leveraged by many real estate agencies to provide updates on COVID-19 practices and the state of the real estate market as they change, promote any in-person events like open houses that are still happening, and drive traffic back to their website. Social media is also a great marketing channel for promoting individual listings or groups of listings in specific communities to attract current homebuyers.
Other digital marketing channels like blogs and emails have also become more essential to reaching potential clients. Providing both buyers and sellers with helpful information and advice makes the research phase of their process, which has moved mostly online at this point, more seamless. The importance of social media and additional online content for connecting with home sellers and buyers has grown immensely during the pandemic as people search for additional connection and support, especially in a decision as important as buying or selling a home.
Virtual Tours for Maximum Protection
In-person open houses are still available in certain states but with more safety protocols in place like wearing masks, social distancing, and occupancy limits. Many real estate agents are also offering more private one-on-one tours of homes to adapt their selling practices during COVID-19. During this time, real estate agencies have had to become more creative in their solutions for providing potential buyers access to homes on the market through multiple options that suit their needs and protect agents, buyers, and communities.
Virtual tours have also increased dramatically to ensure safety during the pandemic. 3D tour technology has become more advanced and widespread, allowing virtual renderings where potential buyers can "move through" a home on their own time to become available online. Pre-filmed videos of agents showing homes have also increased in popularity, as have online scheduling platforms for one-on-one live virtual tours. Video and photo quality has become increasingly important to these practices, in order to make the home buying process still feel as in-person and authentic as possible while matching potential home buyers' comfort levels and keeping everyone involved safe.
Buyers' Willingness to Buy Remotely
Buyers are more open to remote buying sight unseen now with the real estate industry placing emphasis on providing more online resources for options like virtual touring. In fact, Redfin reports that 33 percent of people bought a home in the last year sight-unseen, up 19 percent from last year.
All of the virtual changes we've discussed have made it much easier for buyers to purchase a home in Ohio from anywhere else in the country or beyond. Buyers' comfortability in purchasing houses sight unseen — or sometimes without even meeting their real estate agent in person — comes both out of necessity due to the current restrictions in place and as a result of homebuyers having additional resources and options for researching and buying online.
CENTURY 21 Bolte Real Estate Can Help You Buy or Sell a Home Virtually
If you're looking to sell your home, with the continued high buyer demand and low inventory, now is a great time to get started by partnering with a real estate agent that can get your home marketed properly and assist with virtual selling needs.
If you're searching for a home in North Central Ohio, browse our listings online or reach out to one of our agents today. We can help you find the home of your dreams using the safe and comfortable home research and buying methods that are right for you.