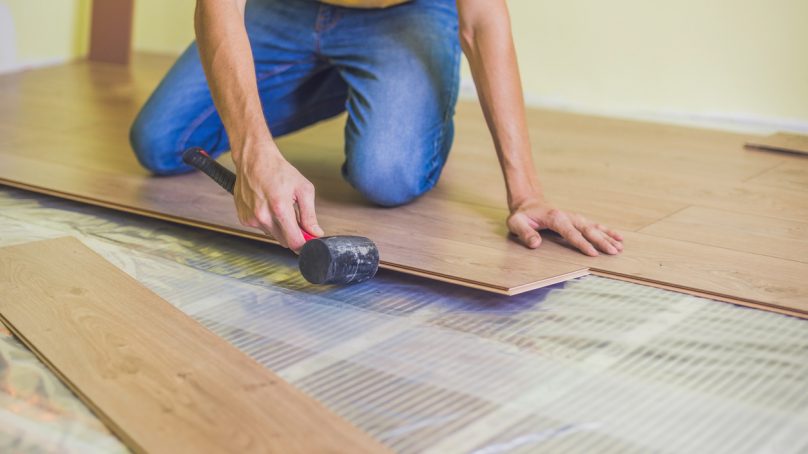 The real estate market has slowed down a bit as a result of COVID-19, but there are still plenty of opportunities for homeowners who might be considering selling to focus on improving home value while waiting out this uncertain time.
Since you're likely stuck at home due to Ohio's stay-at-home order, there's no better time than now to complete some quick projects that are great at improving home value. If you're looking to sell your home in the near future, taking full advantage of this opportunity is important. Check out the following projects that can help you improve your home's value.
Four High-Return Projects for Improving Home Value
1. Landscaping
A homebuyer's first impression of your home occurs before stepping foot inside, so it's important that it be a good one. A home's curb appeal and landscaping are the first indicators of how well the home has been cared for. Not only can landscaping help you improve the look of your property, but it can also add thousands of dollars to its value.
Landscaping is actually one of the very few home improvement projects that adds value both immediately but also results in an increase in home value as time passes. Design concepts and interior decor go out of style every couple of years, and appliances wear down, but plants grow fuller and thicker as years pass by.
With some sweat and elbow grease combined with some nice weather, you can upgrade the look of your lot fairly quickly. Simple things like planting new flowers, pulling up sod and creating mulch beds, mulch trimming around trees or a mailbox, putting down paver stones, and power washing your exterior sidewalks and surfaces will go a long way to improving home value.
2. Update Flooring
Another project for quickly improving home value is an update to flooring. Do you still have the same carpet installed throughout your home that was there when you first bought it? It's probably a good time to make an update. Many stores nowadays offer free carpet installation upon purchase, with free haul-away of old carpet.
Or, if you're looking to give your home a completely different look, consider cost-effective hardwood flooring alternatives. Hardwood alternatives allow you to bring a new look to your home without having to break the bank to do so. Often, they can be installed over older flooring like linoleum, which helps to add an extra moisture barrier.
Examples of hardwood alternatives include vinyl plank flooring, wood-looking tiles, laminate flooring, bamboo flooring, and cork flooring, just to name a few. Check out some of these alternatives to hardwood flooring.
3. Upgrade Your Closets
A clean, well-organized closet creates immediate value and appeal for potential homebuyers. Upgrades can be made to add personality, lifestyle convenience, and overall effectiveness for the homeowner. By upgrading your closet, you can add extra storage to your house, and more specifically, to a master bedroom which is enticing to homebuyers.
Closets are an important part of your home that you interact with on an everyday basis, and even though they can sometimes be seen as an afterthought, they can definitely make an impact when it comes to homebuyers' decision-making.
When it comes to closet upgrades, there are many things you can do. Whether it's adding extra storage space, building additional shelves, streamlining existing storage space, or just improving the appearance through paint or lighting, there's a lot of room for improvement.
4. Refinish Cabinets
The heart of every home lies in the kitchen, and there are few better ways to improve home value than by upgrading elements of your kitchen. An easy yet affordable way to do so is by refinishing your cabinets. For only a couple of hundred dollars, you can resurface your cabinets and even countertops, for that matter.
Quickly go from having a vastly outdated look to a new and modern look with ease. But, why stop there? If you're already refinishing your kitchen cabinets, you might as well look to do so in other parts of your home as well. Refinishing cabinets in your bathrooms to a more modernized appearance can transform the look and feel of your bathroom with little actual work involved on your part. A variety of kits are available at your local home improvement store that can turn an outdated space into a homebuyer's dream.
Use This Time Wisely
If you're looking to sell your home, it's important to use this time wisely while we wait out the rest of the COVID-19 pandemic. Take advantage of the extra time you have and get to work on a few of the projects we mentioned above to improve your home's value. That way, you're prepared to hit the market confidently when the time to sell finally comes.
Want to Learn More? We're Here to Help
Work with the experts. At Bolte Real Estate, we've been helping people buy and sell homes for more than 80 years. In each relationship, we work hard to secure the best deal and possible outcome for our clients.
If you'd like to learn more about improving home value and how that can help you when it comes time to sell your home, reach out to us today. We can help you plan your home sale efficiently and successfully.