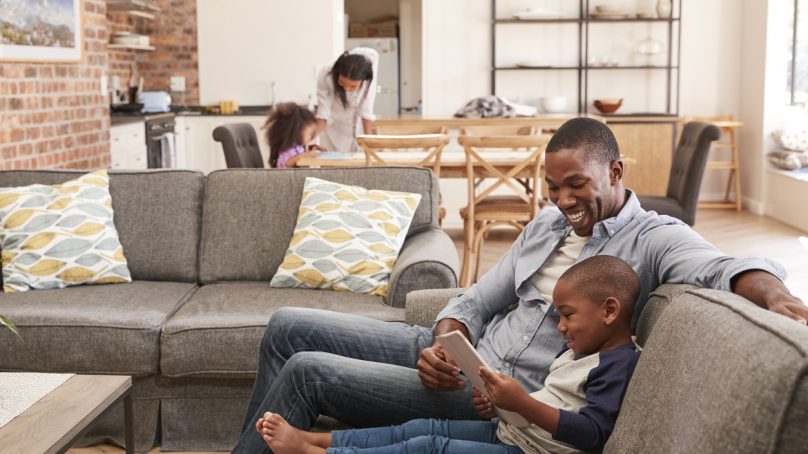 It's the holiday season, and as you invite over your friends and family for the celebration, you may be reconsidering whether your current living arrangement really works for the activities you have in mind. From the first impression your home makes at the doorbell, to your family-size dining room, and movie-ready living room, it's time to make sure your guests feel at ease from the moment they walk in. Read on to find out more about the features that make the best homes for entertaining.
This holiday season, pay attention to how guests feel in your home and let that spark inspiration for upgrades. The ideal home for entertaining may call for new rooms, upgraded furniture, features, renovations, or a new home altogether. Whether you prefer a home that is modern, practical, comfortable, or over the top, you and your guests will benefit from a few considerations depending on your entertainment needs.
Rekindle Family Relationships with Better Home Entertainment
If you have a long list of family and friends for seasonal events, you may be running low on seats at the table, general floor space, or might fear your space appears overcrowded. An open layout is a great option for making your home feel spacious. There are plenty of good reasons that homes for entertaining often feature open layouts. Guests find it easier to walk around in, and an open layout makes lighting the space effortless.
Sliding doors and large windows are another excellent way to create the illusion of more space. Connecting your backyard to your home makes your space feel larger, brightens up the entire room with natural light, and lets in fresh air when people begin to pile in.
Catering for major holiday events is an arduous task on its own. Without the right kitchen, you may not have enough space for your culinary tools, enough countertop space for prepping your next dish, or the room to present appetizers. Ensure your kitchen sink and dishwasher can keep all of the dirty dishes and kitchen messes out of sight and can manage the heavy load.
With the right new home or renovation, you can ensure you have enough space for all of your kitchen amenities, and still have space for more. Consider allowing guests to socialize around an open island countertop, perfect for creating a better foot traffic pattern, or add carts to a smaller kitchen for moveable table space and easy storage.
Whether You're Moving or Renovating, Keep These Questions In Mind To Set Up Your New Entertainment Space
How Can I Make People Feel More Connected?
The best homes for entertaining really center on creating better connections through their spatial planning. A fireplace may be an additional feature to bring friends and family together. Perfect for entertaining guests, warming up your living room during cold winter nights, and a stand-out feature during the holiday season, a fireplace may be what your space needs to make it feel like home.
For deeper conversations, consider cultivating an intimate seating area. Combined with mood lighting, this separate space can offer the privacy you might crave if you have an open layout.
If your family keeps on growing, be sure to keep the kids in mind the next holiday season with a media room or recreational space fit to keep them entertained. With a TV or desktop computer, this space could double as a home office in your day-to-day life.
What Does My Space Need To Make Guests Feel Comfortable?
Have lots of family or friends flying in? Consider adding another guest bedroom and bathroom to make visiting family and guests more comfortable. Nothing is more inconvenient than needing to cohabitate in these private spaces.
Whether it's patching up your front porch, fixing a few locks, changing a lightbulb, or additional storage space for all of the clutter in your home, making a few small changes can lead to a huge improvement in your home's appearance and your guests' experience.
How Much Space Do We Need?
When considering the ideal home for entertaining, it's best to make sure that guests feel comfortable participating in key holiday activities. From rummaging around your kitchen when setting out dinner to celebrating with the whole family at the dining table, you should consider whether the layout enables a smooth flow of traffic, if your guests have enough elbow room at the seats you set out, and how to accommodate additional visitors.
A larger outdoor space opens up opportunities for fun activities to keep the whole family engaged throughout the year. From the Fourth of July in the summer, to touch football in the fall, and snow angels in the winter, there is no shortage in the supply of family fun. Add in a backyard porch, grill, and extra space for the dog, and everyone in your circle will have a reason to enjoy the outdoors.
Make Your House One of the Best Homes for Entertaining
An open-floor layout isn't the only key to improving home entertainment throughout the year. Let your home design show your guests the way to go with thoughtful rug and furniture placement, lighting, open bookcases, and decor. From holiday dinners to inviting your friends over to watch the game, birthday parties, and more, an open space that is thoughtfully designed eliminates the crowd and communicates what each designated area is for.
If you're looking for a new home for entertaining before next year's holiday season, connect with one of our trusted real estate experts in North Central Ohio today.