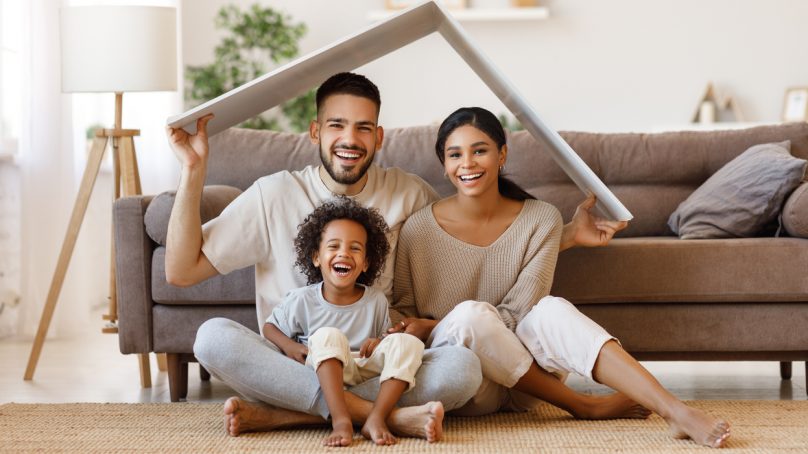 If you live in North Central Ohio like us, then you're likely spending a lot of time indoors as the winter weather sets in. While a newer home may wow with designer finishes, a lack of personal touch may leave your home feeling sterile and uninviting. If you're yearning for a more comfortable home to shield you from the cold, look no further — here are our realtors' best tips for how to make your home cozy for the winter.
Lighting
Lighting is a huge tone-setter for any space in your home. Ample windows provide natural lighting that will make any space feel light and inviting year-round. But in the winter months when it gets dark early, that's when artificial lighting really shines.
In entertainment spaces, it's great to have dimmers and multiple light sources that provide options for different moods. Having a few friends or family members over for dinner? Keep the lighting dimmer and add candles for a cozier environment. Hosting a larger gathering? Show off your home's best features by keeping it bright.
To create the best environment possible for every situation, you'll want to think about the size, shape, color, placement, and amount of lighting available in each space. Opting for warmer-toned lighting grouped at focal points around the room instead of harsh, cool overhead lighting will definitely amp up the cozy factor in your home.
Scents
Another element that you'll want to affect in order to make your home feel cozier is visitors' sense of smell. Candles are not only perfect for cozy lighting but homey scents with notes like vanilla, apple, or cinnamon will make your family and visitors alike feel right at home.
Fragrance plugins can be additional seasonal decor pieces while also contributing to the scent of the home. And if you're cooking for your guests the smell of cooking or freshly-baked goodies will certainly not disappoint.
Heavier Textiles
Stepping onto cool tile or hardwood floors in the winter is the opposite of cozy. Enter area rugs and textile layering. Even if you have rugs in the house year-round, swapping for heavier textiles in the cooler months can make a world of difference.
Even in carpeted areas, decorative rugs can draw the eye and brighten up the room as a whole. And layering them can spice up any room while providing more distance between your feet and the floor.
Keeping your floors warmer to walk on throughout the winter while giving spaces a decorative refresh is why rugs are a win-win for a cozy home. And rugs aren't the only fabric element that can make your spaces feel warmer, either. Add more, heavier throw blankets and extra pillows to seating areas like couches, or even consider heavier drapes for the cooler months to add more ambiance.
Brighter Colors
While darker colors can contribute to making an area feel homey, they may also make the wrong space feel dark and drab. If you're looking to liven things up inside your home this winter, there are a number of ways to go about it.
Even in a darker-colored room, bright or colorful furniture and decor can lighten the mood. Any decorative elements that reflect light, like mirrors, will also help the space feel lighter and larger. If that's not enough, you can always paint the walls a lighter color for a change that will brighten things up a bit.
Fireplaces
Fireplaces are a classic homey element that buyers covet. If your current house has a fireplace, accentuate it for the winter months of heavy use with decorative pieces that fit the tone of your home. Examples include candles, vases, or framed photos, but this is a great area for personalization that sets your home's unique personality.
Above the fireplace, a larger decor item like a mirror, mounted TV, or painting can continue to establish the fireplace as a room's focal point. Structuring comfy seating areas nearby will make this the perfect gathering place on a cold winter's night.
If you don't have a fireplace, consider adding heated elements to your room for that same coziness factor. There are many easy options for electric fireplaces to consider, and other features like heated throw blankets, space heaters, and the like can continue to add warmth in your living spaces.
Greenery
Plants are the perfect way to add liveliness to your home in the dreary winter months. Rotating a vase of fresh flowers in the kitchen or dining room can keep these areas feeling fresh while you and your family are spending more time inside together.
Potted plants will add a pop of color to any room, and pots and vases will be another decorative element you can coordinate to add more personality to your home. The texture and growth of plants make them a living piece of art within your home.
If you're worried about plant cost or upkeep, succulents or fake plants are great alternatives to other greenery. Learning how to propagate plants is another way to help offset the cost.
Upgraded Windows
Lastly, new windows are a huge help in making your home feel cozier in the winter. If your windows are old or haven't been winterized, you may be letting cold air in that keeps your home from feeling warm and cozy. Changing to newer, more energy-efficient windows will not only save you in the long run, but will help your home's comfortability now.
New, shiny windows that filter in natural light will also help to liven the feel of your home outside and in. And if you're planning further ahead for the next winter season, consider adding windows where there are none in spaces that could use additional light even in the daytime.
Don't have the budget or time for new windows? Check your current windows and door frames for any drafts, and add weather stripping or caulk around any problem areas to avoid heat escaping.
CENTURY21 Bolte Real Estate Can Help You Find a Cozy Home
Whether you're looking to move into your first home, planning to upsize or downsize, or moving from a warmer climate, the CENTURY21 Bolte Real Estate team is here to help. We're honest experts in North Central Ohio committed to helping clients find homes that fit their needs. If you're looking for a cozy home to make your own, trust us to improve both the process and the result.
Looking to move to or within North Central Ohio? CENTURY21 Bolte Real Estate is the real estate partner you need.