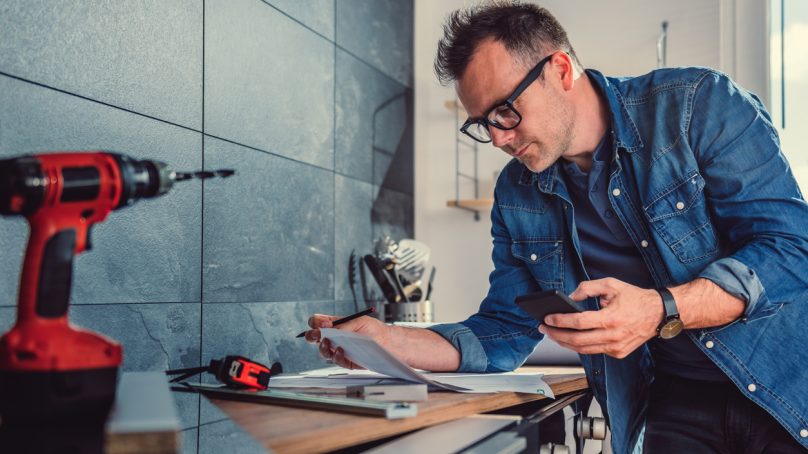 Protect Your Home's Value with These Tips
When considering home improvement ideas, your first concern should be how the project will add value to your everyday life. Perhaps you want to finish the basement to have extra room for your family. Or maybe you want to complete a space with your dream wallpaper. While you should feel free to change your home as you see fit, some projects provide a higher return on investment than others.
Most home improvement projects won't give you a 100 percent return on investment. However, allocating money to specific areas of your home can increase its livability and may help attract buyers upon resale. Let's dive into some home improvement projects that provide a high return on investment — and a few that don't.
Home Improvement Ideas with High Return on Investment
Garage Door Replacement
Replacing your garage door requires a relatively low investment and will make your home look better, feel safer, and increase future resale value. Modern doors offer better durability, protection against the elements, and have a longer lifespan. When replacing a garage door, you can typically expect to see a 94 percent return on investment.
Paint Touch-up
Interior and exterior painting projects both provide a notable return on investment. Painting the inside and outside of your home can provide a dramatic bump in value, resulting in 107 percent return on investment for the interior and 55 percent return on investment for the exterior.
Basement Remodel
A remodeled basement can be a great home improvement idea, especially if you plan to stay in your home for a few years or more. A basement remodel is often less expensive alternative to an above-ground addition; however, it will not produce the same value. When you remodel your basement, you can expect to see a 53 percent return on investment, with some basement types being more desirable than others.
Walk-out basements are usually most attractive to buyers. They offer abundant natural light, and often have a door that leads to an outdoor space. Standard lot basements are less desirable to buyers because they are underground, with concrete walls and minimal light.
Stone Veneer Install
If you're looking to add a natural stone look to your home's exterior, a stone veneer could be the way to go. Natural stone siding costs $30 to $48 per square foot whereas stone veneer siding costs $6 to $11 per square foot. This project could dramatically increase your home's curb appeal, and you can expect to see a 90 percent return on your investment.
Siding Replacement
If your siding is looking a little outdated, replacing it can increase your curb appeal and overall home value. Vinyl siding, in particular, is low-cost, low-maintenance, and easy to install. You can typically expect to see a 69 percent return on investment for a siding replacement.
Home Improvement Ideas with Low Return on Investment
You should feel free to make changes to your home as you see fit. However, if you plan to move in the near future, stay away from these home improvement ideas as they could hurt your home's resale value.
Garage Conversions
You might consider a garage conversion if you need an in-law suite or home office space. However, this is a costly project and likely will not add value to your home. Most buyers prefer garage space over extended living areas, especially in cold-weather areas like Ohio.
Wallpaper
While wallpaper is making a comeback, that doesn't necessarily mean it will add value to your home. Wallpaper typically features patterns that are highly personal to the current owner. While it may appeal to them, it may not appeal to future buyers. In fact, most real estate agents suggest removing wallpaper before listing your home to create an interior with more mass appeal.
Wine Cellars
If you're thinking about selling soon, it may not be the best idea to spend a lot of money on a project like a wine cellar. On average, a homeowner will pay $40,000 for a wine cellar and it may be difficult to recoup that money upon resale. Not every buyer will share your love of wine, and they might not pay a premium for the added feature.
Oversized Home Additions
Adding an extra bedroom or home office may seem like a great idea, but overbuilding for the neighborhood could damage your resale value in the long run. Let's say you want to add a second story with two bedrooms and a full bath. If the rest of the neighborhood only has small, one-story homes, this upgrade won't significantly increase the value.
Home buyers don't want to pay a premium for a home in a neighborhood where the average sale price is much lower. When considering a home addition, make sure the price per square foot aligns with neighboring homes. If not, your home will seem overpriced to potential buyers, even if it's the best one on the block.
Pool Addition
Swimming pools are expensive to install and maintain. At most, your home's value might increase seven percent under the right conditions. A pool addition typically only makes sense in warmer climates, where the lot still has some yard leftover for play or gardening.
Have More Questions?
Choosing home improvement ideas can be tricky, and it's always best to consult with a real estate agent to see which projects will improve your home's resale value.
Since 1936, CENTURY 21 Bolte Real Estate has been helping buyers and sellers in the North Central Ohio region. Our knowledgeable staff can help you determine which home improvement ideas to pursue and help you sell your home when you're ready. We can also connect you with reputable companies to complete the home improvement project of your dreams.
Take the First Step Towards the Home You Always Wanted
Ready to complete that home improvement project? Contact us today to determine if it will help or hurt your home's value.