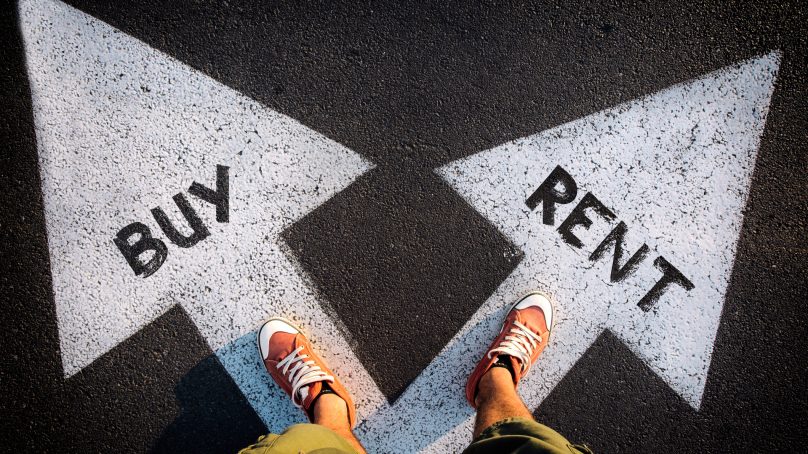 Are you wondering if it's time to stop paying monthly rent and own your own home? There are pros and cons to buying and renting that may apply to you depending on where you're at in your life. The decision of renting vs. owning a home is a big step; make these considerations before deciding whether to continue leasing or start your journey toward homeownership.
What Is Your Current Financial Situation?
Before starting to search for a home, the vast majority of first-time buyers will need to get a mortgage. The National Association of Realtors reports that 93% of first-time U.S. homebuyers finance their home purchase. Getting pre-approved before starting your search in earnest will ensure you're ready to compete against other potential buyers once you find the perfect house.
The first major expense you'll need to be able to afford is the down payment. Depending on the type of loan you're trying to get, this amount can vary greatly but typically lands between 3% and 20% of the home's total value. Those who qualify for a USDA or VA loan may not even have a down payment. Exploring your options for loans and their different down payment requirements is a good first step in setting a financial benchmark for buying your own home.
You'll also need to consider your current credit standing. Since most mortgage lenders have their own FICO score requirements for working with a borrower, this can differ from lender to lender. However, you'll generally want to be above 620 or 640 to be considered. Your credit score will also factor into how much interest you'll have to pay on your mortgage, making it an important consideration before moving forward with your first home buying search. Again, do your research upfront to make informed decisions on whether or not you're in the right financial position to buy a home now.
Debt-to-income ratio is another deciding metric in whether or not you can afford to take on a home loan now. Just as you should consider your rent-to-income (RTI) ratio when deciding what price range of rental to look for, you should heavily consider your overall debt-to-income ratio (DTI) when it comes to buying a home.
Lenders prefer a DTI of under 36%, with 28% or less going toward your monthly mortgage. However, the lower the number here, the better. There are two ways to reduce your DTI if it's too high — increasing monthly income or decreasing monthly debt.
Finally, you'll need to consider closing costs, which you'll need to pay to the lender at the end of your home buying process before documentation can be signed. These usually end up at 2–5% of the home's total value. While there are programs that help homebuyers pay for closing costs, you'll want to find out whether or not you apply ahead of time and consider closing costs in your savings plan if not.
While homeowning allows you to build equity, it also comes with more costs. Even if your monthly mortgage payment is lower than rent, you'll have to pay for more maintenance, utility, and repair costs. Your homeowner's insurance will also be higher than your renter's insurance. That's why it's important to make sure you're encompassing every financial aspect of homeownership in your savings goals, habits, and planning prior to starting your search.
Ready to search for a home now? Check out our home buying guide here.
What Is Your Current Lifestyle Like?
Outside of financial considerations, your lifestyle should weigh heavily on your decision of renting vs. owning a home. Renting allows for a higher level of flexibility, giving the ability to adapt to potential job or life changes more fluidly. So for those that travel frequently or prefer to live a less fixed lifestyle, owning a home may not be the best option.
Homeownership brings you more stability and control over choices within your space. If you want to make changes in a unit you're renting, you'll have to get approval from your landlord and may ultimately be denied. In a home you own, you can make almost any improvements or changes you want with no one to answer to.
Renting also comes with the risk of sudden changes from the building owner affecting your living situation. If your landlord decides to sell or renovate the property, you may have to move before your lease ends. More commonly, you may face rent increases when it comes time to renew your lease that could price you out of your current living situation, which isn't an issue when you own your own home.
Owning and caring for a home will take up more of your time than renting, but it also comes with the pride and privacy of ownership. You can create the space you want to live in and better match your lifestyle and needs in your own home. You can relax into a permanent residence that feels like home, lay deeper down roots, or start a family in one stable, dependable place.
CENTURY 21 Bolte Real Estate Can Help You Find the Perfect Home
If you're financially and emotionally ready to embark on the journey of homeownership in North Central Ohio, CENTURY 21 Bolte Real Estate's compassionate professionals can help. Our team members are experts on the Erie, Huron, Ottawa, Sandusky, and Seneca County communities and will help you find a house you can make into a long-term home.