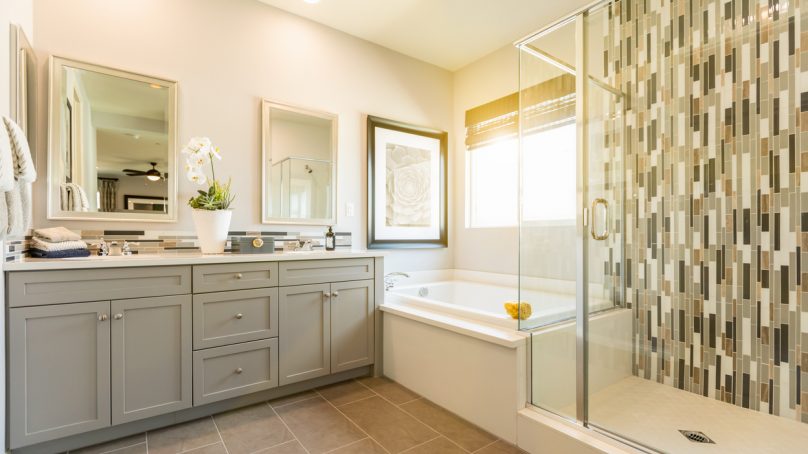 What Are the Best Home Improvements to Increase Value?
Deciding that you want to sell your home is never an easy decision to come to, but let's say you've officially made up your mind. Only, there's one problem. You want to sell your home, but you know that you could get much more in return if you just put a little bit of work into it and make a couple of improvements here and there. But what exactly should you improve to get the best return on your investment? Look no further. Here are six of the best home improvements to increase value when it comes to your home. These are in no particular order, so review each one carefully against your current financial situation, condition of your home, and the ability to tackle the work involved.
1. Lay a Patio
Taking the time to invest in a backyard patio will allow you to reap tremendous rewards when it comes time to sell your home. A backyard patio is a very desirable item when home shopping — especially if you have a nice sized backyard.
When it comes to putting together a patio, the key is to focus on establishing a relaxing environment where you can sit back, kick your feet up, and put any worries that you have aside. This can be done in part by incorporating a focal point. An example of a popular focal point is a fire pit. If you surround the fire pit with a comfortable sitting area, you'll establish a pleasant space where you, your family, and guests can enjoy the fresh air and a cozy fire.
Depending on your financial situation, you'll want to decide whether you want to pour concrete or use pavers. A 100-square-foot slab might run you anywhere from $700 to $1,000 depending on whether it's stamped or any other decorative elements are added. Pavers, on the other hand, can be as inexpensive as a couple of dollars per slab. A hundred pavers to cover the same space might go for as little as $150, though you'll need to ensure the ground is level.
2. Build a Deck
If you've got the space directly behind your house and in your backyard, you might think about adding a deck to your home, especially if you have a backdoor that opens up to the area. Decks made of composite have become extremely popular this year, as they last significantly longer and are easy to clean and maintain. There's nothing wrong with a wooden deck, however.
The key to a nice deck is ensuring that you have plenty of open space. This allows you to include a comfortable seating area that makes guests feel cozy and at home, similar to the backyard patio style of seating. The deck will be easy to further customize with umbrellas for shade, lighting for festive gatherings, barbecue equipment, and more.
Depending on the size of your deck and the amount of material involved, you can expect to pay anywhere from $15 to $35 per square foot (or more). Contractors' prices often include materials and installation. One important detail to consider is the use of pressure-treated, weather-resistant wood. This ensures your deck will stay strong and beautiful for years to come.
3. Build a New Bathroom
The addition of a bathroom can be a big win in terms of selling your home. The difference between one and two or two and three bathrooms is considerable for home buyers. For some families, only having one or two bathrooms can easily be a deal-breaker if they have three kids, for example.
The biggest consideration for you when planning a bathroom addition should be the layout and design along with the difficulty in adding new plumbing (if there isn't space already plumbed for a bathroom). Ensuring there is enough room for multiple people to be able to use it at once is key. The catch with a bathroom addition is to make sure expenses don't begin to balloon, as you then may suffer a financial loss rather than gain.
Materials, installation costs, and other financial factors can quickly start to mount. Adding a new bathroom in full could cost thousands of dollars, but if you're willing and able to tackle much of the work yourself, you can cust down on contractor costs and installation fees.
4. Remodel an Existing Bathroom
If you're not interested in starting from scratch to add a completely new bathroom to your house, you might consider remodeling a current bathroom. There are levels to a bathroom remodel. It all depends on how much you're looking to do as well as how much you're looking to spend.
A remodel can consist of anywhere from changing out the bathtub and shower and re-tiling the floor and possibly walls to smaller, more minor changes. In terms of saving money and having ROI in mind, your focus should be on the vanity.
An upgraded vanity can give a once dreary bathroom a completely refreshed look. Add in a couple of new, updated fixtures and accessories, and you're well on your way to a remodeled bathroom at a much more appetizing cost. Ready-to-install vanities can range from a few hundred dollars to well into the thousands, so keep an eye out for deals. Also pay attention to the plumbing beneath the vanity, as certain piping configurations may require modifications to a vanity or a more custom (and potentially costly) configuration.
5. Replace or Upgrade an Entry Door
What's the first thing that everyone sees when they get to your house? You'd be right if you guessed the front door. It might not seem like a big deal, but a raggedy, old front door can immediately give potential home buyers a bad first impression before they've even gotten a chance to walk into your home.
You never want someone's first thought when walking into your home to be negative. If a brand new door isn't in your budget, don't worry — a nice coat of paint can go a long way in bringing life to your entryway. A fresh welcome mat and a couple of nice-looking plants can easily complement your newly painted front door.
6. Remodel Your Kitchen
Mentioning a kitchen remodel may make people immediately cringe because they think of the enormous cost. Fortunately, this isn't always the case. It's very easy to remodel a kitchen and give it a new and upgraded look without actually spending thousands upon thousands of dollars.
The kitchen is often one of the most popular rooms in a house, so wouldn't you want it to look good? Although kitchen remodels can quickly get expensive, if you plan well and create a budget, you can make some tweaks that will really liven things up. There's no need for new custom cabinets, all new appliances, custom lighting, and more. Retaining the same layout saves you a lot of money in the long run. If you're fine with keeping things simple and actually doing some of the work yourself, you can have a remodeled kitchen for a decent price, thus increasing the value of your home, without breaking your budget.
Cabinet refinishing and resurfacing kits are available for $100 up, saving you thousands on new cabinets and cabinet installation. Under-cabinet lighting is reasonably priced and can be installed without any complex electrical work. And there's no need to drop thousands on high-end granite or quartz countertops — a number of other materials are available that add the same look and feel without the price tag.
Want to Learn More About the Best Home Improvements to Increase Value?
Work with the experts. At Bolte Real Estate, we've been helping people buy and sell homes for more than 80 years. In each relationship, we work hard to secure the best deal and possible outcome for our clients. If you'd like to learn more about the best home improvements that can increase value for your home or are ready to sell your home, reach out to us today.
Want more ideas? Check out these tips here.