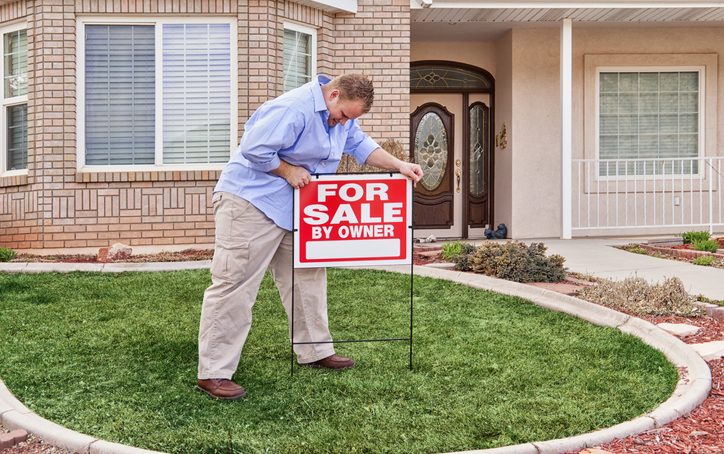 Wondering How to Sell a House by Owner in Ohio? You've Come to the Right Place
Learning how to sell a house by owner in Ohio may seem easy, but you might not be very familiar with the real estate landscape — leaving you without knowing where or how to begin. During your search for more information, you might've stumbled upon the term "For Sale By Owner" or "FSBO" for short, but what exactly does this mean? Well, a FSBO is the process of selling real estate without the representation of a real estate broker or real estate agent. The home is being sold directly by the seller.
Typically, homeowners will take this hands-on approach if they're looking to avoid having to pay a commission on the sale of their home, ultimately saving them anywhere from 3 to 6 percent on the final agreed-upon selling price. However, this means that the seller is fully responsible for all of the work involved in the sale of their home, which includes extensive paperwork, marketing, managing the showing of the home, and much more.
Overview of How to Sell a House by Owner in Ohio
The FSBO process can be a lengthy one, especially because the entire sale of your home is on you and you only from beginning to end. The first step of the process is ensuring that your home is ready for viewing. There's no reason to worry about anything else until this has been completed.
This may include any renovations or upgrades that need to be made. It's unwise to list your home unless you know that all updates and repairs have been made. It's important to have your home looking its very best when you list it for sale. Staging your home is another critical aspect of this. The goal of staging is to make your home appealing to the highest number of potential buyers, allowing you to sell your property quickly and for more money.
What to Do Before Listing Your Home
Once you've updated and staged your home, you'll need to put together a game plan. This starts with coming up with an educated estimate of your home's value so as to set a listing price. It's important to set an appealing home listing price in order to attract buyers.
Per Zillow research, 57 percent of homes were sold at or above their listing price when an offer was accepted in the first week. A second week on the market sees that number drop to 50 percent, and it continues to trend downward from there. The longer your home stays on the market, the less likely you are to receive the offer you're looking for.
Next up is determining how you'll show your home and when. If you have a day job, you may only be able to have showings on the weekends or during the evenings, which can severely limit your prospective buyer pool. Availability is key during these few weeks that your home is on the market.
The final thing you'll have to do before listing your home is research marketing tools and platforms. Since you're doing this on your own, be prepared to pay a fee and wait for some items, such as yard signs and other marketing and advertising collateral to be sent to you. Make sure you know how you're going to get the word out about your home.
This is a time when working with a real estate agent comes in handy, as their firm already has immediate access to a variety of marketing platforms and tools as well as established relationships with lenders, other local agents, and firms.
Listing Your House
It's time to list your house. After doing your research, you're ready. Be prepared for a longer listing time as homes that are listed with agents typically sell faster because they're exposed to more buyers. Also, make sure you're ready to speak to buyer agents. Just because you're not working with an agent doesn't mean a buyer won't be.
Use sites like Zillow or Trulia to list your home online for free, or even sites like Craigslist and Facebook. Because you're doing a FSBO, you might have to get creative to reach a larger audience. This might entail telling your friends, neighbors, and co-workers and asking them to share your listing.
As you begin to speak to prospective buyers, ensure that they are pre-approved. A pre-approved buyer is multiple steps ahead of a non-pre-approved buyer. Don't waste your time with a buyer who hasn't even gone through the pre-approval process yet, as it can take quite some time. Read more about why working with pre-approved buyers is important to the successful sale of your home.
Once you've found an interested party, you may have to navigate through negotiations and any concessions that a buyer may have. This could include certain repairs being completed prior to closing, negotiating for certain conveyances such as appliances, or other special requests. Be sure to get everything in writing and obtain the buyer's signature.
Final Steps
Once you've found a buyer and have both agreed upon a purchase price, you'll have to work with the buyer and possibly their agent to execute a purchase contract. This will lead to a likely home inspection to ensure that everything with your home is working correctly and there are no potential safety issues, and then an assessment of your home's value.
The most important part of the FSBO process comes after this — properly executing all required documentation. If you're not interested in dealing with a real estate agent due to the commission payment, you may want to at least consult with a real estate attorney on an ad-hoc hourly basis when it comes to legal documentation to ensure everything is being handled properly and that the transaction is closed with no issues.
To close the transaction, you'll need to meet with the settlement agent which is likely the buyer's title company, review all final documentation to make sure everything looks accurate, and complete any final obligations on your end, such as making payments to the country, paying various taxes, and so on. If there were any agreed-upon terms between yourself and the buyer, be sure to fulfill those as well.
The Challenges of How to Sell a House by Owner in Ohio
No Agent Support
There are certainly benefits to doing a FSBO, with the main one being the ability to save the 3 to 6 percent commission payment that you'd normally be paying a real estate agent, but there is also a fair share of challenges that accompany this route as well. The first of which is simply having an experienced agent's support throughout the process. There are times in which you may encounter complications or could use some expert guidance, and without an agent, you have nobody to lean on for support. Some of these challenges are highlighted below.
Potential for Errors
Unless you're familiar with the real estate transaction process, there's a likelihood that you may encounter some errors — whether it's in the process of filling out or filing paperwork, forgetting a step in the process, or pricing it incorrectly. Over the course of a home-selling journey, these can all add up quickly, possibly leaving you with a significant loss.
Lack of Marketing Reach
The lack of a marketing reach is probably the biggest challenge to overcome when doing a FSBO. This is where real estate agents give you an upper hand. Their resources and connections heavily outweigh those that an average home seller might have. You might have to spend hundreds if not thousands of dollars just to properly market your home, whereas an agent has all of these tools at their disposal for free.
Negotiation
As a big part of the home buying and selling process, negotiations are almost inevitable. Now, this might be something you're fine with, or maybe not as comfortable with, but without an agent's support, it's a part of the process that you'll have to handle. Being able to spot serious, motivated buyers is an agent's strength. Not having this experience can leave you dealing with people who aren't worth your time, causing you to lose money.
According to the Zillow Group Consumer Housing Trends Report 2018, just 10 percent of sellers that sold their home in the last 12 months completed the sale of their home without ever engaging an agent. Another 10 percent try to sell on their own but eventually turn to an agent for help.
How Bolte Real Estate Can Help
When it's time to sell your home, there's no one better to assist you than the talented team at Bolte Real Estate. Since 1936, we've helped thousands of homeowners prepare their homes for sale, market them across numerous channels, and negotiate with buyers confidently — and successfully. We can do the same for you and your home.
You deserve to get top dollar for the home that you've worked hard to call your own. Whether you've already listed your home or have been considering doing a FSBO, we'd enjoy learning about you, your home, and how we may be able to help.
If you're interested in learning more, or want to better understand how to sell a house by owner in Ohio (and why you shouldn't), get in touch with us today!