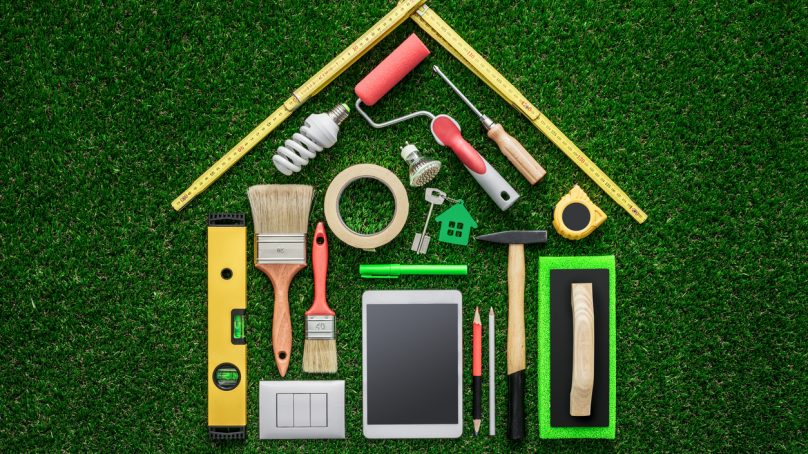 Your home is likely your biggest investment, so naturally, its upkeep is a top priority. Taking care of a house is a huge undertaking, but our home maintenance tips can help you get started with regularly checking your home and setting aside the money and time needed for repairs.
Whether you just bought your first home or have been living in a home for several years, home maintenance is essential for both keeping your house a safe place to live and keeping your home value up to par.
Here is our checklist of maintenance tasks to complete throughout the year.
Monthly Home Maintenance
A monthly check of your electrical, plumbing, heating and cooling systems, appliances, and security system can help you catch minor issues before they become larger problems and keep your home safe. This will also help you save on huge repair expenses down the road.
A best-practice home maintenance schedule starts with monthly checks of the most important elements of your home. For safety reasons, this starts with inspecting smoke and carbon monoxide detectors, fire extinguishers, and ground fault circuits to make sure they're working properly. You'll also want to take a look at electrical cords to ensure there hasn't been any significant wear and tear on them.
You can save money with regular quick maintenance activities, like cleaning the furnace filter which makes it better regulate your home's temperature and keep your energy bills lower. Other smaller monthly maintenance items that can help you avoid paying for larger repairs include removing mineral deposits from faucets and showerheads, adding salt to the water softener when necessary, unclogging drains, flushing out the water heater to remove built-up sediment, and making sure the garbage disposal is clean and clear by grinding ice cubes, then running hot water with baking soda.
Outside, you'll want to check and make sure that vents are not blocked and are unlocked. Also, ensure that indoor air vents are not blocked by furniture or other items to make the most of your heating and cooling systems. Vacuuming and cleaning heat registers and vents to remove dust guarantees that these are working at top quality as well.
Fall
The obvious maintenance task essential in the fall is raking leaves in your yard. You could also opt for mowing over the leaves once a week to break them down and provide nutrients to the soil. Early fall or spring is also a great time to aerate your lawn (usually only needed once annually) if you live in a northern state where cool-season grass types are common.
Most fall maintenance is all about preparing your home for winter. Outside of your home, cleaning leaves out of the gutters and getting any necessary repairs done, shutting off, draining, and insulating your sprinkler system, cleaning and covering your pool, and stocking up firewood if you plan to use it in a fireplace are all activities you can complete (or, in some cases, call a professional to do for you) while the weather is still decent. The fall is also a good time for fixing cracks in driveways and walkways, checking out your roof and getting any loose or damaged shingles fixed, power-washing the outside of your house, and fixing any malfunctioning outdoor handles or locks.
Inside your home, check the fireplace for damage and clean the flues, inspect windows and doors for any drafts and caulk over cracks, put weather strips in, or consider replacements. Have your heating system inspected between the late summer and early fall, and check the water heater for any leaking. Since many contractors have wrapped up their significant outdoor projects by the fall, but the weather is still fairly temperate, it's also a great time to get going on indoor projects like painting or room updates. It may also be a good idea to switch out old — potentially liable to break— appliances ahead of the holidays, and clean out dryer vents to avoid fire hazards (an HVAC specialist can help ensure this is done properly).
Winter
If you prepare properly in the fall for winter, the cold months should hopefully be smooth sailing. Most of your winter home maintenance will involve battling the weather conditions.
Make sure to stock up on road salt and gas for the snowblower before the first major snow. You'll also want to ascertain that your snowblower is working properly before you're stuck shoveling in a storm. Look out for icicles on the exterior of your home, as these can be a sign of ice dams forming, which can damage gutters, shingles, or siding and cause leaks inside of your home.
Since outdoor maintenance is mostly on pause during the winter, doing smaller, indoor repairs in the winter can help make sure everything continues to work in your house. Checking your basement for potential leaks, vacuuming the coils in your fridge and freezer and cleaning drip trays, vacuuming the bathroom fan grill, and changing the filters of your heating system are all easy tasks to complete indoors during the colder months.
Spring
While you're spring cleaning, there are also some essential home maintenance items to check on and complete. Outside, collect any remaining leaves and lay down mulch. Once the snow is gone for good, you can remove insulation from outdoor water systems like sprinklers and ensure that they're still working properly. Spring is also a great time to reseed your lawn if necessary and fertilize your yard as well.
Just like completing snowblower maintenance ahead of winter, you'll want to check your lawn mower and get it serviced (if needed) in early spring before your lawn starts growing uncontrollably as the weather warms. Also outdoors, you'll want to check your roof again for any possible damage sustained during winter storms. Late spring — before it gets too hot outside — is the perfect time to reopen your pool before summer, and stain or refinish your deck.
Indoors, you'll want to prepare your cooling system for the summer heat. Clean out the filter in your air conditioning unit and get it inspected and/or serviced before the first heat wave heads your way. Additional tasks to accomplish in the springtime include cleaning window and door screens, dusting light fixtures, and polishing wood furniture like tables and desks. Additional essential home upkeep tasks for the spring include draining your water heater, hiring a professional to pump your septic tank, and replacing batteries in smoke and carbon monoxide detectors.
Summer
Summer is the time to kick back and relax, letting the whole family enjoy the indoor and outdoor features of your home. That being said, there are still a few chores to stay on top of during the warm months in order to keep your house in top shape.
Outside, mowing your lawn will become a high priority as your grass starts to shoot up faster and faster. You'll also want to prune trees, shrubs, and bushes, tend to any outdoor garden areas you have and make sure all plants are receiving enough water to beat the heat. If you have a pool, keeping it clean for enjoyment all summer long should be top of mind for outdoor home maintenance.
Internally, there are a few projects you can tackle in the summer. Oil all garage door elements and door hinges, discard lint from your washer hose and dryer vent, check all water features of your home for potential drips or leaks (think sinks, dishwashers, showers, etc.), and clear out your kitchen exhaust fan filter. You'll also want to clean your fridge and freezer coils and drip trays more than once a year to keep them operational, so summer is an ideal time to repeat this action.
To help keep you and your family cool on hot days, consider reversing your ceiling fans to a counterclockwise motion that pushes air downward. You can also avoid summer pests by cleaning regularly (especially in eating or food preparation areas) and eradicate them with home remedies and sprays or by calling a professional, depending on the severity and type of infestation.
Bolte Real Estate Has More Than Just Home Maintenance Tips — We Can Help You Find Your Forever Home
A real estate agent can help advise you on maintenance to perform before selling your house and necessary maintenance for first-time homebuyers — but finding an agent you can trust can mean so much more. The right agent will be by your side for the entire home buying or selling process, putting your needs first in order to match you with the best possible buyer and/or find the house of your dreams.
CENTURY21 Bolte Real Estate is the trusted North Central Ohio partner that will support you through every step of the home buying or selling process and beyond.