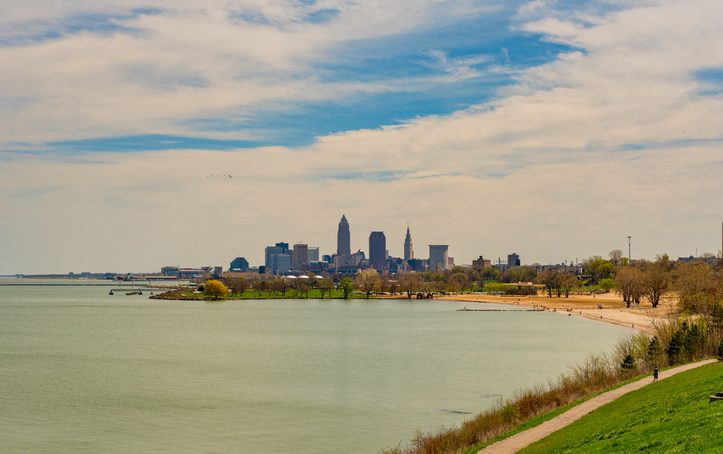 America is home to some of the most scenic lakes in the world and the towns surrounding them offer a perfect mix of outdoor recreation, cultural attractions, and small-town charm. From the stunning vistas of the Northeast to the rugged, alpine beauty of the Rockies, there is no shortage of candidates for the best lake towns in America.
But what makes lake town living so appealing?
While not every lake town offers the same experience for its residents, many provide easier access to nature and a strong sense of community that resonates with people who want a quieter, slower pace of life. Living near water also comes with a list of added health benefits.
With that in mind, here are a few of the best lake towns in America as well as some Ohio lake town spotlights.
Lake Tahoe, NV/CA
One of the most iconic lakes in America, Lake Tahoe is a favorite destination for outdoor enthusiasts. Straddling the border of California and Nevada, Lake Tahoe is surrounded by snow-capped mountains and offers year-round activities like skiing, hiking, fishing, and boating. The towns around the lake, such as South Lake Tahoe and Incline Village, offer plenty of restaurants, shops, and cultural attractions.
Lake Placid, NY
Another big name among lake towns, Lake Placid is located in the heart of the picturesque Adirondack mountain range. Known as the two-time Winter Olympics host city, Lake Placid also offers a range of outdoor activities and festivals throughout the year.
Couer d'Alene, ID
Located on the shores of Lake Couer d'Alene in northern Idaho, this lake town provides a tranquil environment with easy access to the outdoors year-round, with water sports like kayaking and stand-up paddleboarding on the lake in summer, or snowshoeing on the mountain trails throughout the winter. The lively downtown area also offers a range of unique shops and cultural attractions.
Dillon, CO
Not normally thought of for its lakes, Colorado has a number of lake town hidden gems like Dillon. Located on the shores of Lake Dillon, this town also offers a variety of water sports in the summer, and in winter, it features a hand-crafted ice castle that spans an entire acre and includes tunnels, archways, and slides to explore.
Lake Town Living in Northeastern Ohio
Some of the best lake towns in America are located right here in Ohio on the shores of Lake Erie. With affordable housing, easy access to the big city conveniences of Cleveland, and Lake Erie's reputation for enviable sunsets, northeastern Ohio stands out as a paradise for lake-town living in the U.S.
Marblehead, OH
Marblehead is a small town with a big personality. With attractions like the Marblehead Lighthouse and East Harbor State Park, living in Marblehead offers convenient access to hiking, fishing, boating, and a range of other activities. There is a strong, tight-knit sense of community around events like the Marblehead Lighthouse Festival and the Walleye Festival. Just a short drive from the larger city of Sandusky, Marblehead is the perfect place to settle down.
Sandusky, OH
If you're looking for a larger population center, Sandusky is a bustling city on the shores of Lake Erie. In Sandusky, you'll find a range of amenities like world-class shopping and dining, entertainment, and cultural events. Sandusky is also home to the Cedar Point amusement park, as well as various local museums and other cultural attractions. With a welcoming atmosphere and a town that celebrates its local history and traditions, Sandusky is perfect for those looking for a vibrant, diverse community.
Port Clinton, OH
Like Marblehead, Port Clinton is a tranquil lake town that offers a quiet getaway from the bigger cities. Home to the Ottawa National Wildlife Refuge, Port Clinton is a nature lover's utopia. Port Clinton also participates in the Walleye Festival and hosts the Perch, Peach, Pierogi, and Polka Festival.
Are You Ready to Find Your Ohio Lake Town Home?
CENTURY 21 Bolte Real Estate has been helping residents of North Central Ohio achieve homeownership since 1936. With deep roots in the area, we combine the expertise of our licensed team and our intimate knowledge of the communities in this area to help you find the ideal home to fit you and your life.
Whether you're a first-time buyer, looking to sell, or an experienced homeowner wanting to relocate, we're here to help you find the home that's right for you.
Get in touch today to get started.