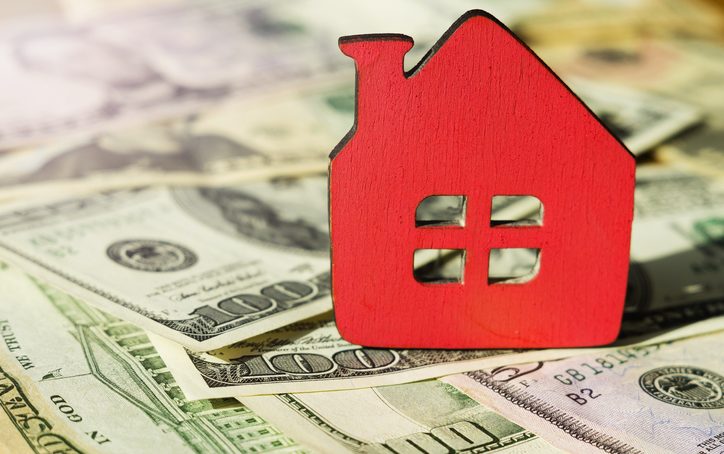 Your Down Payment is One of the Key Factors That'll Determine How Much You'll Pay Each Month for Your Home
If you're getting ready to purchase a home soon, you're probably going to have to take out a mortgage. Most people have to go through this process in order to buy a home, but the financial details can get a little tricky — especially with how much money you want to put down. The amount you choose will affect your payment amount, whether you'll need mortgage insurance, and more — so what is the typical down payment on a house?
For a "typical" number, most people will tell you 20 percent down is the way to go. This has been the benchmark for years, but depending on the type of mortgage you get, 20 percent isn't necessarily a requirement. Your down payment is a portion of the cost of your home sale that is paid up front to the lender that helps them balance the risk involved in the transaction. Down payments are usually expressed as percentages, and how much you have to pay per month depends on the mortgage you choose or are qualified to get.
The reason that 20 percent down is the most common choice is that by paying that amount, you don't have to pay mortgage insurance. Just as it sounds, mortgage insurance is an additional fee that you have to pay for making a lower-than-normal down payment. While down payments lower than 20 percent are available for certain programs, you may have to pay mortgage insurance in some form.
However, current trends have also shown that 20 percent down might not be as strong a rule of thumb as it has been. Many homebuyers, especially young people, are putting down less than 20 percent in order to obtain the home they want. In fact, 55 percent of people put down six percent or less in 2018. The down payment is often the greatest barrier to homeownership, so more and more lenders are lowering their down payment requirements to help more people buy homes.
So, how do you know what down payment is right for you? That depends on the amount of money you have available to spend (and want to spend), and the type of mortgage you're considering. Let's dig into the differences.
Down Payment Requirements for Different Mortgage Types
Conventional Mortgages
Conventional mortgages are one of the most common types of home loans and are backed by government-sponsored enterprises — Freddie Mac and Fannie Mae — that purchase mortgages from lenders. These loans typically require you to put 20 percent down, but they're now able to lower the minimum to as little as three percent. Conventional lenders have lowered their rate in order to compete with other low down payment programs and to provide greater access to homeownership.
However, if you put less than 20 percent down, you're going to have to pay private mortgage insurance (PMI) on top of your monthly payment. PMI can be up to one percent of your total loan value each month — the amount depends on your credit score, the cost of your loan, and the amount that you're putting down. It's easy for this to become expensive, which is why it's important that you pay attention to these details. Note that some lenders offer lender-paid mortgage insurance (LPMI), but your rate will increase to help the lender cover that cost.
In terms of rates, conventional mortgages are available as either fixed or adjustable. A fixed-rate mortgage means that your rate will never change — but it'll be slightly higher. Adjustable-rate mortgages (ARMs) will have lower rates, but you run the risk of your rate increasing unexpectedly after the initial fixed period. This period can be anywhere from 3 to 10 years, depending on the loan you choose. ARMs do provide "caps," which are limits to the amount the rate can change, but these must be determined during the loan process.
With conventional mortgages, you can also choose how long the loan term will be. These loans are available for a wide variety of terms, you can choose anywhere from 10 to 30 years, but 15 and 30 are typically the most common choices. Others include 10, 20, and 25. The shorter the term that you choose, the more that you'll end up paying each month.
Conventional mortgages also allow up to nine percent in seller concessions. This means that you can negotiate with the people selling your home to pay up to nine percent of the home's sale price toward closing costs. This is great for buyers who may be cash poor as it still allows you to buy, but it's important to understand that this will require negotiation. Essentially, you're asking the seller to give up some of their proceeds (and not an insignificant amount, either) to help you out. It's not guaranteed that they will agree.
You'll also want to note that with a conventional mortgage, a down payment won't be the only thing you're responsible for paying. Conventional mortgages also require origination fees, underwriting fees, a home inspection fee, appraisal fees, and other fees based on your county and title company. This means that conventional mortgages can (and tend to) cost more than other types of mortgages that are available.
FHA Loans
Federal Housing Administration (FHA) loans are designed for low- or middle-class families and are also great for first-time homebuyers. They can also be beneficial for individuals with lower credit scores or have experienced financial setbacks in the past. The purpose of these loans is to make home buying more accessible by relaxing the standards around lending by lowering down payments and offering competitive rates.
While FHA loans don't require PMI, they do require mortgage insurance. This is essentially the same thing as PMI, but it's charged as protection for the mortgage company in the event that you weren't able to pay your mortgage. With an FHA loan, you'll need to pay a one-time fee for mortgage insurance along with the premium that will be paid on top of your monthly payments. As for the cost, all FHA borrowers pay a set amount based on their down payment and term of their loan.
FHA loans also allow a slightly lower percentage of seller concessions than conventional mortgages, with only a six percent max. Like we mentioned before, the minimum down payment for an FHA loan is 3.5 percent, but since you're putting down a significantly lower amount of money, your monthly payments will be higher.
VA Loans
A VA loan is specifically designed for veterans and other qualifying service members. VA loans have a zero percent down payment requirement. Typically, the only cost for a borrower is often the VA funding fee. Along with that, closing costs are limited by the VA. If you've served, a VA loan is a great option due to its flexibility, and the VA benefit used for the loan can be reused for another home purchase.
If you're in need of additional assistance with your home purchase, both FHA and VA loans can be complemented with other housing assistance programs. All three loan programs also offer refinancing options with specific benefits, so you have the ability to save on your mortgage down the road should the market or your situation change.
What's the Right Down Payment for You?
So, depending on what you're financial standing is, 20 percent down is still the best option for a down payment due to your ability to avoid additional fees. However, recent trends in home buying have shown that many people are opting to put less money down in order to get the home they want with less out-of-pocket costs, and thankfully, mortgage loans are being adjusted to meet the needs of people who might need more financial assistance.
If you're not sure what path to take for your upcoming home purchase, the experts at CENTURY 21 Bolte Real Estate can help you work within your means for your next home purchase. Buying a home is a large undertaking, but our team can help you find the perfect home in North Central Ohio that matches what you can afford, show you additional options that you might not have been able to find on your own, and discover homes in your price range before they even come on the market.
Interested in learning more about how we can help you succeed in your home search? Reach out to us today.