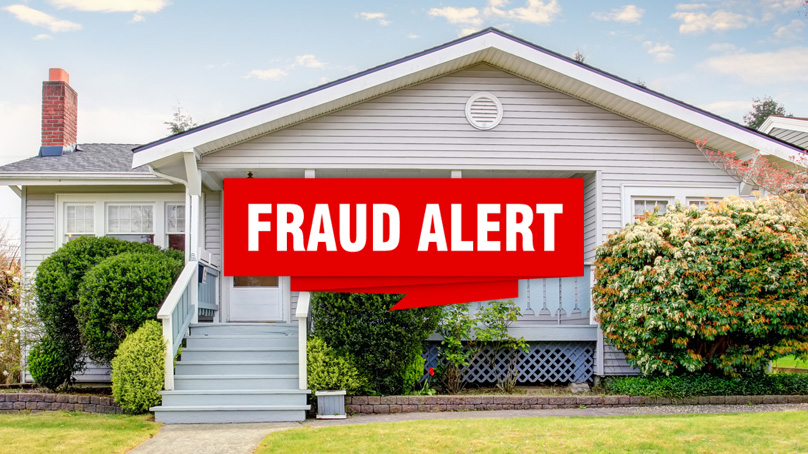 It's Real Estate Season, Which Means It's Scam Season, Too
The weather isn't the only thing that heats up during the summer months. Late spring and early summer are widely referred to as real estate season due to the significant amount of home purchases and sales that occur during this time of the year. This also means that there are a greater number of real estate scams springing up across the country.
Scammers are hacking into the email accounts of real estate agents and tracking their work and clients, so as to pounce on a ripe opportunity. Once a buyer and their agent are ready to close on a transaction, the scammers beat them to it and send an email from the real estate agent's account to the client — requesting that the money from the transaction be wired to a bank account. These accounts are usually based overseas, resulting in a total loss for the buyer and others involved.
In 2018 alone, there were more than 11,000 victims who reported real estate or rental fraud, resulting in losses of more than $149 million according to data from the FBI's Internet Crime Complaint Center.
Examples of Recent Real Estate Scams
One of the most recent and damaging real estate scams occurred out west in Utah. The Utah Department of Commerce recently issued an alert and has launched a public awareness campaign, warning home buyers and sellers as well as real estate agents of the ongoing real estate scams prevalent in the market. The FBI has estimated that Utah residents have lost more than $20 million to real estate scams in just 2018.
A notable case of this occurring was back in August of 2015, when Emily Pederson, a real estate agent in Vernal, Utah, and her husband almost lost out on $60,000 due to one of these scams. The title company that was handling the house transaction notified Pederson that they would be in touch with her when her check was ready to be picked up.
On the morning of her expected payment date, Pederson decided to drop by the office after running some errands and ran into the woman handling the transaction. She said that she was just about to wire her the money, as per their email conversation. Sure enough, Pederson looked down and her email had been hacked into and compromised, almost resulting in a loss of $60,000 had she not stopped by the office.
A similar scam happened to Sherlyn Bennet, a real estate agent at Berkshire Hathaway Home Services in 2017. Someone managed to use a photo of her with a fake email to make a request from a title company to wire money to a fake bank account for a deal she was closing. Luckily enough for Bennet, the company called her before making the transaction to verify.
Common Types of Real Estate Scams
The last thing you want to worry about during the home buying process is being scammed. It takes away from the excitement in closing on what could be your first home or your dream home. More importantly, it will put you on a path toward recovering your funds and even potentially your identity that will take time to resolve — with no guarantee of a positive outcome. That's why it's extremely important that you're aware of these different types of real estate scams so you avoid falling for one.
Escrow Wire Fraud
In this real estate scam, you receive an email from someone imitating a title company with instructions on where to send your escrow funds. Scammers will use fake phone numbers, email addresses, websites, and other channels to appear as legitimate so as to convince you to send them money. Once you've sent it, they've withdrawn the funds and your money is already gone.
Loan Flipping
This is when a homeowner is persuaded to repeatedly refinance their mortgage by someone imitating a mortgage lender. These scammers charge high fees with each transaction, and after being tricked, you could ultimately get stuck with a higher loan payment that you can't afford — potentially leading to the loss of your home.
Foreclosure Relief
Individuals falling behind on mortgage payments can become desperate to save their homes, which is when scammers — who have access to public records — jump in and offer foreclosure relief to help them out. They claim to help reduce mortgage payments in return for a one-time large sum payment, but really they simply take that money and run, leaving you in an even worse situation. There are a number of government-backed and recommended foreclosure relief programs available if you find yourself in this situation.
Rental Scams
These are quite common and occur when scammers post fake rental property ads online to lure interested renters with pictures of other people's homes. These scammers are looking for a one-time deposit payment in return to see the house. Once they're paid, you don't hear back from them. While not as significant as loan flipping or stealing your down payment, this real estate scam is nevertheless an important one to watch out for — especially for young renters, college students, or families that may be looking for a temporary place to live while building or relocating.
How to Recognize a Potential Real Estate Scam
In order to completely avoid falling into a trap like this in which it's possible to lose your entire life savings in a moment, you have to be extremely careful and diligent. It's important to ensure everyone you deal with is legitimate — thus protecting yourself and your resources.
It's important to slow down and think when it comes to the home buying/selling process, especially since it's a time filled with such high emotions and high-dollar transactions. It's easy to believe that it'll never happen to you, but scammers target individuals who think and behave exactly this way. Trusting your gut when something doesn't exactly feel right is a good practice.
And remember, your real estate agent is there to support you. You may not be able to verify certain elements of a transaction, but a licensed real estate agent will be connected with all parties. If you have any questions about the deal, simply ask. Even if you're just unsure, your agent will be able to find out and give you peace of mind.
Tips to Avoid a Potential Real Estate Scam
Watch out for last-minute emails with significant changes to agreed-upon terms
Never send important financial information or wire transfer information via email
Be cautious of who you're opening emails from — look at the details and verify
Ask your agent about their communication style so you know what to expect
Ask your loan officer about their communication methods as well
Change usernames and passwords on a consistent basis and store them securely
Use encrypted email if discussing sensitive information
Want to Learn More? We're Here to Help
For more than 80 years, Bolte Real Estate has supported our clients with successful — and safe — real estate transactions. We are committed to making your journey as safe and stress-free as possible so you can enjoy the home you've worked hard for.
If you'd like to learn more about our protective measures for your transaction, reach out to us today.