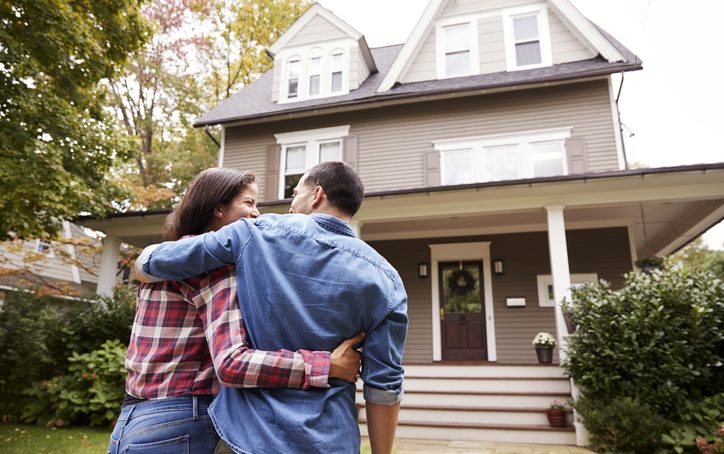 Interest rates and the housing market are both likely going to trend upward in 2019 as peak selling season gets closer, and as the question of whether the government will continue to raise interest rates remains unanswered. Here's what you should pay attention to if you're looking to buy or sell a home in the new year.
In 2018, the national housing market didn't see as much activity as previous years due to a few rate hikes from the Federal Reserve. What this meant was that home prices either plateaued or dropped in order to entice buyers who were on the fence. While rates recently dropped, don't expect this to continue throughout the new year.
Mortgage experts' opinions differ in how much they think rates are going to increase in 2019, but the one thing they can agree on is that they're going to go up. According to BankRate.com, the Mortgage Bankers Association forecasts the average 30-year fixed mortgage will remain at 5.1 percent for most of the year. Other experts think that the number could rise even higher as we head further into 2019.
What Do Higher Mortgage Rates Mean for the Housing Market?
Changes in interest rates and the housing market are typically indirect reflections of one another. For higher mortgage rates, this means that buyers will have to consider either putting more money in for their down payment or rethinking the base price of the house they can afford. What does this mean for home prices? Since people aren't as eager to buy or pay asking price, many homeowners have had to adjust their price or slog through longer listing times as they wait for the right buyer to come around.
In 2019, with mortgage rates expected to increase, and home prices expected to slow from 2018, those who are interested in selling their home will need to be wary that buyers will be extremely competitive in order to close at a price that's easier for them to afford — and not in the sense that they'll be bidding against one another, but rather that their initial offers could be lower than expected.
So, if you're interested in selling your home this year, what can you do? In order to sell quickly at or above asking price, sellers are going to have to put more effort into their listings. This can mean more than just making sure your house is clean for showings or taking a lot of appealing photos for the listing — although you should still make sure you do these things if you want to put your house on the market.
How you sell your house has a lot to do with how you market your house, and with buyers who aren't exactly jumping at the opportunity, you're going to have to go the extra mile to sell your house. A good first step is to consider staging — or adding furniture and other details to make the home appear to be lived in. This helps prospective buyers get a sense for how the home would look if it were theirs, and also helps make each space look more appealing in general, rather than simply being empty.
Your agent will be able to assist with staging — whether that's working directly with you on staging best practices, or by hiring an outside staging company to provide the professional touch. Pricing isn't as bad as you might think, either. Depending on the level of staging needed and the duration, you may only be out a few hundred dollars. As homes tend to sit on the market longer, prices may go up higher, but your proceeds from the sale can help reimburse that expense once the home sells.
If you've already moved out, ensure your agent places a lockbox on your front door. This is often a common practice, but make sure to discuss it with your agent. Have your MLS listing include a mention of the lockbox, but ask agents to call first so you know when people will be in your home. Giving prospective buyers and their agents ease of access makes the showing process more efficient and less intrusive since you won't have to leave the home for it to be shown, and the prospective buyer won't feel rushed or pressured knowing that you're waiting for them to leave.
You'll also want to think about advertising. Your agent will be able to ensure that your home is on all the major home websites, in local home magazines, or even direct mail. The majority of people are going to look for homes online, so you'll want to focus on this channel first. With these listings, think about what keywords you've used to search a home and make sure they're included in your description. Things like the number of bedrooms and bathrooms, yard size, porches and decks, and long driveways are all things people will use to filter their search.
And if all of that sounds like a lot of work, you're right! Selling a home is no easy feat, and enticing buyers is just the tip of the iceberg. In a market where buyers are picky, selling your home can be a stressful, uphill battle. An agent is going to already know the best ways to entice buyers, and also be familiar with the current state of the market, so they'll be able to help you build the best strategy to sell your home.
At CENTURY 21 Bolte Real Estate, we put every home on the multiple listing service (MLS) and all the lead home websites to get your home listed faster and seen by more buyers. If you're ready to sell your home this year, don't go it alone. CENTURY 21 Bolte Real Estate knows North Central Ohio better than any other firm, and we can help you navigate an efficient home sale in 2019.